Meta House - Four shorts from the factories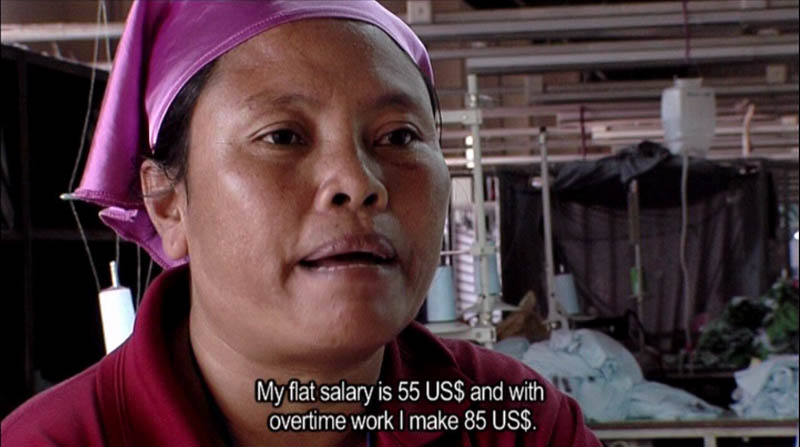 Cambodia's garment industry a major pillar of the country's post-war economy. In 2007, garment factories employed more than 350,000 workers and generated exports worth around US$3.7 billion. Most factories produce for well known US and European brands including Gap, Adidas, Levis and H&M. In 2009 the global economic crisis has led to to more than 70.000 workers being laid off. Most of them are young women from rural areas with limited education, who support an average of three to five family members. Through their remittances these women often crucially contribute to their family's survival and to the education of their siblings. Migrating from rural areas to big cities they find themselves displaced from their origins.
FOUR SHORTS FROM THE FACTORIES (2010, 4 x 8 mins) look at the economic downturn viewed through the prism of workers, a female Cambodian manager, union representatives, entrepreneurs and small businesses surrounding the factories.
The films A DAY AT THE FACTORY, A DAY AROUND THE FACTORIES, A DAY OFF FROM THE FACTORY and A WEEKEND WITH THE MANAGER have been produced by international filmmakers and Cambodian media students under the roof of the "Media Education and Training Academy" (M.E.T.A.), supported by Better Factories Cambodia/ILO and Friedrich-Ebert-Foundation (FES) Singapore.
Students participating in the research and production of FOUR SHORTS FROM THE FACTORIES were Sao Sopheak (28), Borei Sylyvann (25), Lim Seang Heng (21) and Ream Chamrouen (18). The films were directed by US filmmaker Mark Hammond ("L'Amour Cache") and "Meta House"-founder Nico Mesterharm from Germany. Other professionals involved were the cameramen Lach Chantha (Cambodia), Marc Eberle (Germany), Pascal-Mario Geisler (Germany), French editor Jean Mathis and German sound designer/music producer Jan Mueller.
The soundtrack contains an original song by "The Messenger Band" – Cambodian's only girl group with a cause. The band consists of garment factory workers and was brought to life with the help of the local grass roots NGO "Womyn's Agenda for Change" (WAC). The seven singers regularly perform at Meta House, in Phnom Penh and also in rural areas for the communities.